Bromham Lower School head teacher gets on her scooter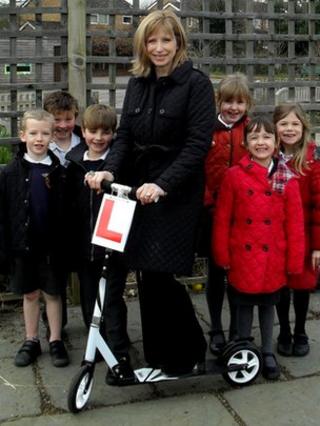 A head teacher from Bedfordshire has said she is saving time and money after buying a £50 scooter to travel between two school sites.
Virginia Gilks, from Bromham Church of England Lower School near Bedford, estimates she is saving at least 10 minutes a day by using the scooter.
"I'm saving the school money because every minute of my time is valuable," she said.
Mrs Gilks has cut five minutes off each leg of her journey by using wheels.
It used to take her 10 minutes to walk in her high heels between the two sites, which are separated by a playing field and a stretch of parish land.
Mrs Gilks said: "It takes as long to get in the car as it does to walk and psychologically walking makes the two schools feel closer, so using the scooter has been a lot of fun."
It was the pupils, aged between four and nine, who prompted the idea of two-wheeled transport.
"A lot of the children scoot and cycle to the school and used to shoot past me, and the parents were always saying I should get a scooter," said Mrs Gilks.
"The children keep asking to go on it, but I have to keep saying no as it is a special adult one."