Work under way at Milton Keynes landfill to combat odour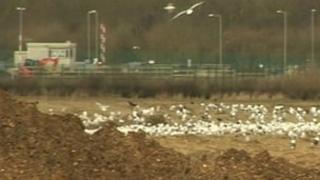 Work is being carried out to reduce the "rotten eggs" smell from a Milton Keynes landfill.
The Environment Agency said it had received 20 complaints in the last two months about the smell from FFC Waste Services's site at Newton Longville.
The agency said the operator was in the process of installing additional gas extraction measures and cladding to seal the site.
The work is expected to be completed this week.
Pauline Callaghan, who lives in neighbouring Water Eaton, said: "It comes and goes during the day and it's horrible and they need to sort it out because we live here and if it comes to selling the house, it's going to put people off."
Shirley Rolfe, who chairs the Water Eaton Residents Association, said: "It's mainly in the early morning and late evening and last time it was a stagnant smell like rotten eggs.
"We had to close our windows."
An Environment Agency spokesman said: "We carried out routine inspections in December and January and are happy with the steps being taken by the operators.
"The planned work has been delayed by recent weather conditions, but it is expected to be complete within the week."