Doctor Who star Colin Baker may sue over daughter's car crash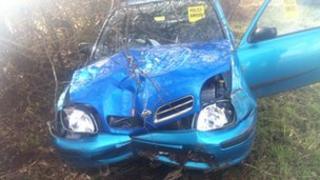 The former Doctor Who actor Colin Baker is considering legal action after his daughter's car struck a pothole and hit a tree in Buckinghamshire.
Mr Baker's daughter, Lally, 22, suffered bruising when her Nissan Micra spun off the A404 while driving towards High Wycombe last Wednesday.
Mr Baker said: "Our insurance company is considering action against [the council] and if they don't, I will."
Buckinghamshire County Council said the hole had now been "made safe".
Ms Baker, who works for a London-based animal welfare charity, was travelling home to Cadmore End when the wheel of her car struck a pothole outside Hazlemere.
'Big impact'
She said it took her "completely by surprise" but she was driving "well within" the speed limit of 50mph in busy evening traffic.
"I saw some cones and I thought I was going round it," she said.
"The cones were in the hole but it was longer than the cones covered, so I still managed to hit it and I spun into a tree.
"There was a big impact, the car is a write-off. I am amazed I am in one piece, I was very lucky."
Mr Baker, who played the sixth Doctor between 1984 and 1986, said he had since moved the cones from in the hole to around it "to prevent further accidents".
He said: "I'd say it was a good day because my daughter walked away, but we are very grateful for efficient seatbelts and airbags."
Rosemary Bryant, from the council, said: "The area has been coned off to make it safe and the road space is booked from 18-20 February to permanently repair this defect."
She added: "Following the cold snap there are a number of potholes appearing on the road network and those requiring urgent attention should be reported by phone to our contact centre so that they can be inspected as soon as possible."