Radlett rail cable failure delays trains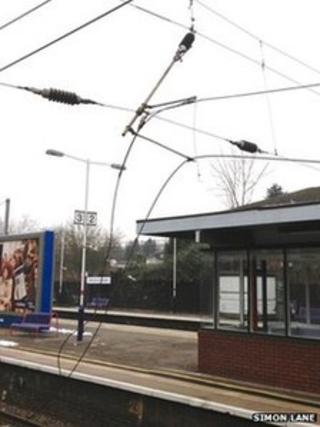 Commuters using train services to and from London face delays until Friday after 0.6 miles (1km) of overhead cables came down in Hertfordshire.
The problems at Radlett on Wednesday led to changes to First Capital Connect, East Midlands Trains and Southeastern services.
First Capital Connect said passengers could experience delays until 06:00 GMT on Friday.
The electrical cable failed just after 11:00 GMT on Wednesday.
Five trains near Radlett station had to be evacuated.
'Extensive damage'
Paul Oxley, of First Capital Connect, said the damage was "quite extensive" and delays were expected run into Friday morning.
He said "Network Rail have been able to carry out half the repairs overnight so we actually have access to two of the four lines between Bedford and London St Pancras.
"There will be a train service serving all Thameslink stations but it will be heavily reduced and customers will experience delays throughout the rest of the day of about 15-30 minutes on average."
Network Rail said it would be doing the final repairs from 22:00 GMT on Thursday to have all the lines open by 06:00 GMT on Friday.
Mr Oxley said: "We will be able to put together the full timetable the best we can [from then].
"But there may still be delays tomorrow as trains will be displaced over the line."
'Detailed investigation'
A statement on the East Midlands Trains website said services between London and Luton were running, though there could be some "short notice cancellations and minor delays".
A spokeswoman explained that the trains ran on diesel and were therefore less reliant on the power cables than First Capital Connect trains.
Southeastern is diverting trains to London Victoria.
Martin Frobisher, of Network Rail, said it was "sorry for all the delays" and would be doing a "detailed forensic investigation" which could take up to three months.
He said: "Obviously our first priority is to get the service running then over the next few days we need to study it and understand precisely what has happened."
Passengers are advised to check National Rail Enquiries for the latest information.