Model Paula Hamilton fined for sunflower police assault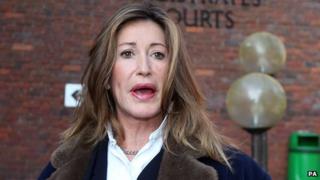 Former model Paula Hamilton has been fined £400 for assaulting a policeman with a sunflower.
Hamilton, 52, launched the attack with the 14ft (4.2m) sunflower after police were called to her home near Slough, Berkshire, last September.
Hamilton, who denied the charge, rose to fame in a 1980s car advert and was in Celebrity Big Brother last month.
After the Aylesbury Magistrates' Court hearing Hamilton said she had been punished for being an "individual".
'Becoming robots'
"My crime here today is because I have an alternative lifestyle," she said.
"I was giving a policeman a family flower, a crest, and yes, I had drunk a bottle of wine like Bridget Jones.
"We are all becoming robots."
Hamilton rose to fame in a television advert in the 1980s, when she played a jilted lover who dumped luxury gifts in the street but kept the keys to a VW Golf.
She was the first housemate to be evicted from this year's Celebrity Big Brother.
Hamilton was fined £400 and ordered to pay £650 in costs and a £15 victim surcharge.