Milton Keynes' shopping centre rethinks market relocation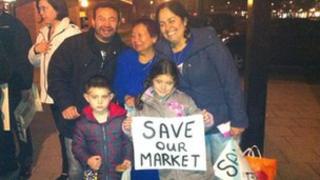 Owners of Milton Keynes' Grade II-listed shopping centre have withdrawn a plan to move the market as part of its proposed £40m extension.
The relocation was part of a plan to demolish Secklow Gate bridge and build a new Primark store at thecentre:mk.
Proposals to knock down the bridge and part of the centre will still go before Milton Keynes Council on Thursday.
Last week, council officers recommended planning permission for the whole project is refused.
Thecentre:mk was built in the 1970s and has more than 230 stores.
It is jointly owned by UK property management companies Hermes Property Asset Management and Prudential Property Investment Managers, who were due to finance the project.
It wanted to move the market, which currently stands under Secklow Gate bridge, to another location at the centre.
Traders at the market had voiced objections to the plans and said the proposed site they would move to was too small.
Report considered
Development director Jonathan Weymouth said this part of the planning application had been withdrawn after they had considered the planning officer's report.
"We fully expect the remaining planning application and Listed Building Consent to be considered on Thursday evening," he added.
Linda Inoki, of campaign group Xplain, said the plans were a "disaster" for Milton Keynes and the whole "bundle of applications" should go before the council.
"There is so much evidence against it, [all the plans] should just be thrown out and Milton Keynes can get on with its business," she said.
The planning application to extend the shopping centre by 90,000 sq ft was submitted to Milton Keynes Council in August.
The council confirmed it had been told the part of the application regarding the "possible alternative market site" had been withdrawn.
A spokesman said the rest of the plans would still be discussed at its development control committee on Thursday.