Ramblers spot coati on woodland walk in Buckinghamshire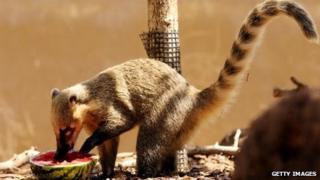 An animal normally native to the American continent has been spotted in Buckinghamshire by a group of ramblers.
Members of Wycombe District Ramblers walking in Fennimore Wood, near Marlow, on 16 February, saw an unusual animal "high in a tree".
Walker Barbara Brooksbank said: "We saw its ringed tail and thought it was a racoon."
The RSPCA confirmed the animal as a coati after viewing material from another source.
Ms Brooksbank, one of 27 walkers in the group, said the creature came down and "walked right up to us".
"It was very tame so we thought it must be a pet," she said.
Strong front claws
"It then strolled away, not in any hurry, but there were dogs on our walk and it must have got their scent because it hurried back up the tree, quick as a flash.
"It's not what you expect to see in woods around Marlow."
She said she called the RSPCA and the local newspaper to see if anyone had advertised in lost and found.
"I hope someone comes forward because I can't see the poor thing surviving in these sub zero temperatures," she added.
An RSPCA wildlife expert explained that coatis are native to South, Central and parts of North America and are commonly found in tropical forests, living primarily on a diet of insects.
They are not adapted to living in temperate English habitats and as a result may struggle to survive here in the wild, particularly during periods of below zero temperatures.
The creatures have strong front claws and will defend themselves if they feel threatened but a Dangerous Wild Animals Act licence is not needed to keep a one as a pet.
A spokeswoman said: "It's possible that this animal was being kept in a zoo, a private collection or as a pet and has either escaped or been released.
"If the animal is spotted our advice would be to monitor its location, confine it (if possible and safe to do so) and call the RSPCA."