Police warn 'lock car doors' after attack on woman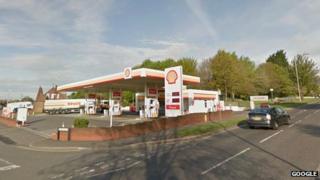 Police are warning drivers to make sure their car doors are locked after a man climbed into a woman's car and ordered her to drive before assaulting her.
The woman, in her late 20s, was leaving the Shell petrol station in Poynters Road, Dunstable, Bedfordshire, on Thursday when the man got into her car.
He forced her to drive to Tomlinson Avenue where he assaulted her.
Det Insp Ruth Dodsworth said the incident had been a "devastating experience" for the woman.
She said the woman was receiving support from her family and specialist police officers.
'Be on guard'
The man climbed into the victim's car as she was driving off the petrol station forecourt just before 19:00 GMT.
He is of medium build and was wearing a dark hooded sweatshirt with the hood pulled tight across his face.
Detectives from the Bedfordshire, Cambridgeshire and Hertfordshire Major Crime Unit have appealed for anyone who saw him in Poynters Road, or a black 4x4-type car parked in Tomlinson Avenue, to come forward.
Det Insp Dodsworth said: "We believe this is an isolated incident but to ensure people's safety we would advise motorists to be on their guard and lock their car doors when they are sitting in their vehicles.
"We have spoken with another woman who we believe was approached by this man shortly before this incident. She had her car door locked so he was unable to gain entry to her vehicle.
"I would urge anyone who may have also been approached by a man matching this description to contact the police immediately."