Watford ex-girlfriend attack: Building worker jailed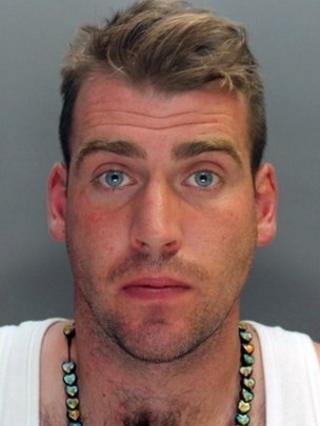 A building worker has been jailed for seven years for a drunken attack on his ex-girlfriend which left her in need of plastic surgery.
Shaun Callan, 27, punched Jade Worts, 20, to the ground then kicked her, causing a fractured skull, broken jaw and a gash above her eye.
Passers-by in Watford tried to stop the attack on 25 July last year, Luton Crown Court heard.
Judge Richard Foster said it was "cowardly, vicious and horrific".
Prosecutor Claudette Elliott said care home worker Ms Worts and Callan went drinking.
They ended up in a hotel bar where they argued.
'Sought help'
In the street, Ms Worts, of Curtis Drive, Watford, was heard to shout: "It is over Shaun" and Callan was then seen to punch her in the face.
She fell to the ground where he swung his foot back like a footballer and kicked her in the top half of her body, Ms Elliott said.
Callan, of Gladstone Road, Watford, was arrested the next day sleeping in a van parked at his brother's home.
At court he pleaded guilty to causing grievous bodily harm with intent.
Defence barrister Richard Storey said Callan was disgusted with himself. On the day he had drunk a lot of alcohol and could not remember what had happened.
"He has sought help whilst in prison and accepts responsibility."
Judge Foster said: "You must be thoroughly ashamed of yourself.
"You lashed out and when she was on the ground, with your shod feet, you laid into her."