Hollandia shipwrecked 'pirate coin' stolen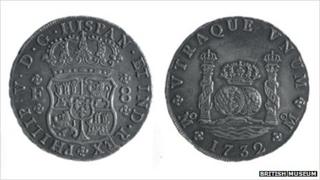 A distinctive Spanish silver coin, recovered from the shipwreck of the Hollandia which sank in 1743, has been stolen from a house in Hertfordshire.
The eight reales coin, minted in 1741 and hung from a chain, was taken in a burglary at a house at Braughing, near Ware, on Friday, said police.
A spokesman from the British Museum said the coins, known as pillar dollars, were "historically important".
Police have appealed for anyone with information to contact them.
The coin, minted in Mexico, sunk to the seabed when the Hollandia, carrying a cargo of silver from Amsterdam to the Far East, sank during her maiden voyage off the coast of the Isle of Scilly.
'Pieces of eight'
Tom Hockenhull, curator of modern money at the British Museum, said: "Historically these coins are quite important as they were some of the first trade coins - the model for the US dollar essentially.
"We don't know quite how many were produced but they circulated widely so they are found all over the world.
"Known colloquially as pillar dollars, it's said they led to the phrase 'pieces of eight' as pirates and traders would have cut them up into 'pieces' to create smaller denominations."
A spokesman for Hertfordshire Police said: "The victims of the burglary are extremely keen to have this extremely unique coin back.
"I would urge anyone who may have encountered this coin since it was stolen to contact people as soon as possible."