Bedfordshire PCC calls for compulsory tags for criminals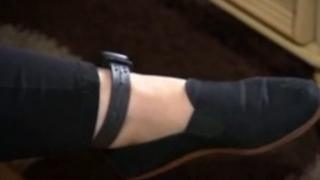 A police and crime commissioner is calling for persistent offenders to be fitted with tags so they can be tracked in real time.
Olly Martins, Labour PCC for Bedfordshire, wants GPS technology used on a compulsory basis.
He said the plan had the support of the courts and the county's chief constable but was being held up by the government over a "minor contractual quibble".
The Home Office said PCCs were right to have begun making policing plans.
Bedfordshire Police have been trialling a voluntary tagging scheme for 18 months with a small group of offenders.
The force said that the group had been linked to 459 burglaries prior to the tagging, but only three since.
Now Chief Constable Alf Hitchcock, backed by Mr Martins, wants to target 200 prolific burglars and others criminals, including robbers and car thieves, for compulsory tagging.
'It's a nonsense'
The tags would be more sophisticated than existing ones, and would feature the latest GPS technology, allowing their position to be pinpointed.
But Mr Martins said the government was blocking his plan because the national tagging contract did not allow it.
"They're insisting that the current contact which was drawn up nine years ago - before we had this technology - was not consistent with allowing the technology to be used on a compulsory basis," he said.
"I think that's just a nonsense. This minor contractual quibble should be ironed out so that we can roll this initiative out, so that we can start cutting the harm that prolific and persistent burglars are causing in Bedfordshire.
"It's stopping a PCC doing what I've been elected to do."
Mr Martins said a pilot scheme would provide a way around existing rules.
"Ministers need to tell their civil servants that they want this to happen," he said.
"I've spoken to the courts. They're very supportive. They want effective community sentencing tools that command public confidence."
'Protect the public'
Mr Hitchcock said: "We've done some profiling of the types of criminality that we could target using these tags and we think there are around 200 offenders who would benefit from the use of this type of tagging.
"We've checked all the legalities and the human rights issues.
"It's the right thing to do for the offender but, more importantly, it's the right thing to do for victims and to protect the public, so it's a win-win."
Bernard Rix, acting chief executive of the Confederation of Police and Crime Commissioners, said: "We will see over time quite a number of PCCs actually beginning to flex their muscles.
"Olly Martins in Bedfordshire clearly wants to take forward this tagging initiative. He's finding that there are some difficulties in achieving that and he's starting to try to encourage the Home Office to get on with things."
Ministry of Justice officials plan to visit Bedfordshire Police HQ to discuss the tagging initiative.
Forty-one PCCs were elected in November across England and Wales to hold police forces to account and set policing priorities.
A Home Office spokesman said: "Directly-elected PCCs ensure the police deal with the issues that really matter to the communities they serve, as the public will be holding them directly to account.
"PCCs have a direct mandate to cut crime and it is right they have started to make plans about their intentions for policing in their force areas."