Central Bedfordshire agrees 66 extra traveller pitches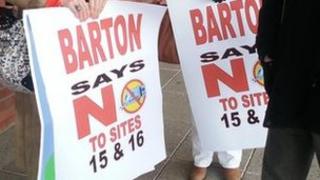 Locations for 66 additional Gypsy and traveller pitches in Bedfordshire have been recommended by councillors.
They are proposed for seven sites, including three existing ones at Tingrith, Caddington and Pulloxhill.
New sites are also planned for Biggleswade, Potton, Stotfold and Faldo Road, west of Barton-Le-Clay.
Central Bedfordshire Council said it had a "statutory obligation" to provide the extra pitches in order to satisfy government requirements.
Councillor Nigel Young said: "We are bound by planning law which came in with the National Planning Policy Framework.
"With a plan, we at least will choose where our Gypsy and traveller communities are and then we can work on community cohesion."
Residents were originally told 157 more pitches were needed to meet community needs up to 2031.
BBC Three Counties' political reporter Paul Scoins said: "The council's plan to cater for all its needs for the next 19 years was deemed to be unrealistic with some councillors saying it was impossible to look that far into the future.
"This agreement will provide the legal requirement for at least 10 years, potentially 13."
Mr Young said: "There will be refreshers between now and [2031]- the numbers may go up, or they may go down."
'Flawed decision'
More than 200 residents attended the meeting and dozens more were left outside the council's Chicksands offices after police had been called in to control the crowd.
Some residents were angry about the decision.
Richard Beechener from Faldo Farm in Barton said: "We are suffering as a rural community of trying to fit a rule that doesn't work into a way of life that we are struggling to maintain.
"We will be fighting tooth and nail to show that this is a flawed decision."
A full consultation is to follow with a final decision made by Secretary of State Eric Pickles.