Alf Hitchcock gives Bedfordshire Police biscuit boost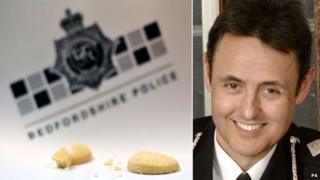 A top policeman has revealed he has a special tactic to prevent staff morale from crumbling - free biscuits.
Bedfordshire Chief Constable Alf Hitchcock digs into his own pockets to bring in the sweet treats each week.
And the canny policeman revealed he buys broken biscuits, which go further among his sweet-toothed colleagues.
The local branch of the Police Federation said it welcomed Mr Hitchcock's gesture at a time when police morale was suffering.
'Bring in loads'
Mr Hitchcock has been in the top job at Bedfordshire Police since 2010, serving a population of about 600,000.
In an interview with BBC News, the police chief said he brought in the biscuits "to keep the morale up".
He said he bought broken biscuits because they go further among staff.
"It means I can bring (them) in for the whole office," said Mr Hitchcock. "I can bring in loads."
But big-hearted Mr Hitchcock, who has been a policeman since 1977, admitted that on occasion he will spare no expense to lay on the best the biscuit world has to offer.
"I still do occasionally deviate on to the Hobnobs and the more upmarket ones."
However, Jim Mallen, chairman of the Bedfordshire branch of the Police Federation, said he did not believe the broken biscuits were making it all the way to front-line staff.
"But I am sure they would be delighted to receive anything from the chief constable," added Det Sgt Mallen, whose favourite dunker is the humble digestive.
He said police morale had been suffering.
"But I am heartened... that our chief constable eats broken biscuits.
"But where is he getting his broken biscuits from?"