Queen urged 'gift' Milton Keynes' Hodge Lea centre to community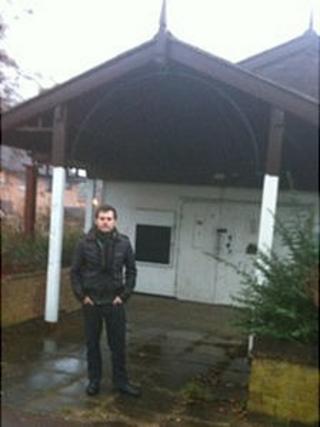 The Queen has been asked to "gift" an empty community centre back to the people after they found out she owns it.
The Milton Keynes centre reverted to Crown Estate ownership because of an "obscure legal rule", when its previous owners went bankrupt.
Hodge Lea has been empty for a number of years, and a councillor has asked the Queen to intervene to reopen it.
The Crown Estate said it was assessing how the matter can be "progressed".
Milton Keynes Council, which passed the building to the now bankrupt residents' association, initially discovered it would have to pay the estate £5,000 to get the freehold of the building back.
This prompted Labour councillor Robert Middleton to write to the Queen.
Refurbishment required
"Residents were working hard to get the meeting place back in action but then we hit a hurdle," said Mr Middleton.
"Unfortunately on [the residents' association's] bankruptcy, it transferred through a really obscure legal rule to The Crown Estate and that's where it remains."
The law states that if freehold land becomes ownerless in the UK, it can pass into the ownership of the monarch in a process called "escheat".
It can only pass back into private ownership if the Crown Estate agrees to sell a new freehold to a new owner.
Mr Middleton said residents would have to pay "about £10,000" including legal costs "just to get our hands on" the centre, and then raise at least £25,000 to get it refurbished.
He said he had written to the Queen asking for the the building to be "gifted back" to the community.
'Dialogue with councils'
"I already have a lot of people expressing an interest in running it and as soon as it is open we can get some really exciting things going on," he said.
"She can come and have some tea and cake when we reopen it."
A spokesman for The Crown Estate confirmed it had been contacted by Milton Keynes Council to ask if it would sell the community centre to the Wolverton and Greenleys Town Council.
A statement read: "We have opened a dialogue with both councils to see if this matter can be progressed further."
It added that while the property it managed belonged to the monarch "in right of the Crown", it was not the Queen's private property.
She therefore cannot buy or sell any of The Crown Estate's assets and has no voice in its management.