New Barnfield incinerator plan goes to public inquiry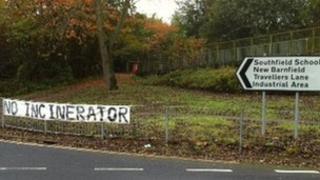 A public inquiry into plans for a new incinerator in Hertfordshire has been announced by the government.
Set to open on 10 September, it is expected to last for 12 days in a venue yet to be announced.
Hertfordshire County Council agreed plans for an energy-from-waste plant at New Barnfield, in October.
In January, it was called in by the Department for Communities and Local Government (DCLG) to be subjected to further scrutiny.
Developers Veolia have stopped moving forward with the plans until Secretary of State Eric Pickles makes a decision.
'Thoroughly examined'
Councillor Derrick Ashley said the council was "optimistic" the government inspector would support the plan.
"Planning in a county like Hertfordshire is always going to involve balancing different considerations," he said.
"But as a waste disposal authority we believe that there is a compelling case for granting planning permission, and we will be putting that case to the public inquiry.
"While it's unfortunate that the scheme will be delayed by this call-in, on the positive side it does mean nobody can say the application isn't being thoroughly examined."
The report from the public inquiry must be submitted by 16 December.
A spokeswoman from the DCLG confirmed there was "no timescale on when a decision will be made".