Police puddle splash: Michael Davidson's case dismissed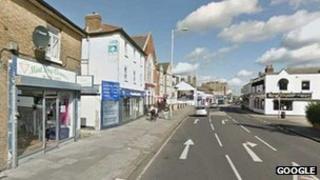 A man charged with a motoring offence after driving his van through a puddle that splashed a police community support officer (PCSO) had his case dismissed after an eight-month inquiry.
Mick Davidson, 60, from Puckeridge, was accused of driving "without reasonable consideration" in Cheshunt, Hertfordshire, last June.
He was said to have created a wall of water which covered the officer.
The case was dismissed due to "irregularities" in police evidence.
Mr Davidson, a former bathroom fitter, appeared at Stevenage Magistrates' Court accused of driving through a "large puddle" on the High Street.
"I didn't even know anyone had been soaked and I couldn't believe it when two police officers turned up on my doorstep three days later," he said.
'Completely' covered
"I'd been driving home in my VW transporter van, not recklessly, but the weather was foul and the highway was flooded."
Police said his actions produced a "large wall of water, approximately six feet (1.8m) high, showering and completely covering" the officer, named on court papers as "PCSO Moore".
However, the Crown Prosecution Service (CPS) said "an irregularity with the recording of evidence by the police became apparent" which meant it could no longer proceed.
A spokeswoman said: "The CPS offered no evidence and the case was dismissed."
Mr Davidson said he was "so happy" it was all over as it had put him and his family "under enormous pressure".
"But I've had no apology or further contact from the police or CPS," he said.
Hertfordshire Police said it was looking to see "if any lessons could be learned" from the inquiry.
"We are reviewing the investigation of this incident to understand exactly why the case could not proceed," a spokesman said.
He also confirmed the PCSO is currently employed by another police force.