Hemel Hempstead bus lane blunder raises £136,000 for hospice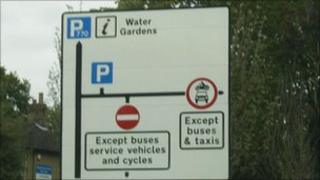 A hospice will get almost £136,000 after motorists were wrongly penalised for driving in a bus lane.
Hertfordshire County Council was told to repay £1.3m in penalty charges after signage on Moor End Road bus lane in Hemel Hempstead was ruled unlawful.
A council spokesman said £100,000 of unclaimed refunds would be donated to St Francis Hospice in Berkhamsted.
A further £35,760 was raised from claimants who decided to give their refunds to charity.
In April last year, the Traffic Penalty Tribunal ruled that the bus lane had not been correctly signposted.
About 36,000 drivers had received £60 fixed penalties for using it.
'Substantial amount'
Hertfordshire County Council decided to refund the charges to drivers who requested a refund, but applications had to be in by 31 December.
It said the first £100,000 of any unclaimed refunds would be paid to the hospice.
Motorists who claimed the money back were also invited to give the sum to which they were entitled to the same cause.
Hospice director Dr Ros Taylor called the donation "a substantial amount of money" which would go towards funding the free services it offers to families suffering with a life-limiting illness.
"We are particularly grateful to those people who have chosen to donate the refunds to our hospice," she said.
"Every penny counts and we are continually developing our services to reach more and more people, both in our unit at the hospice and within a patient's home."