Ickley Close village green status refused in housing row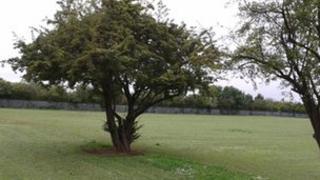 Campaigners are "furious" that an application to win village green status for an open space in Luton has been thrown out by a town council.
Luton Borough Council wants to put housing on its land behind Butely Road.
Protesters said the field met legal criteria to be designated a village green, which halt the council plans, as it had been used freely for 20 years.
The authority would not allow village green status because the land had already been acquired as an open space.
Councillor Tom Shaw said "over 2,000 people needing housing and 700 people in temporary accommodation" in the town.
Plans by developers George Wimpey, and given to the council in the 1970s, for land by the M1 at Ickley Close were approved in July.
The development includes more than 50 homes with 23 earmarked for social housing and shared ownership.
People living nearby applied for the land to be given village green status last September.
The council appointed an independent legal expert who considered the plan in a three-day inquiry in January.
'By right'
For the site to be designated a village green, the Commons Act 2006 states "a significant number" of local people must have "indulged as of right in lawful sports and pastimes on the land" for at least 20 years and continue to do so at the time of application.
Using land "as of right" is when no one has actually given permission for it to be used by the public.
However, lawyer Stephen Morgan said the land had been used "by right" because the council had acquired it as an open space and said the public could use it.
Campaigner Stephanie Stiff said: "That's despite over 100 people saying they never knew who that land belonged to.
"The residents are absolutely furious, [the council] do exactly what they want and take no notice of the people who actually put them there."
Mr Shaw said: "I hope we can now work together and make sure some of the community fund money [provided by the developers] is spent in the area to ease people's fears."