Peter Saunders 'died trying to save son' in French Alps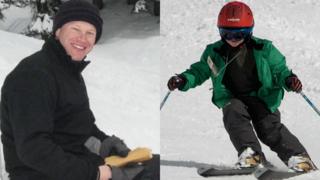 A British man is thought to have died while trying to find his son who had fallen to his death in the French Alps, police said.
The bodies of Peter Saunders, 48, and his son, Charlie, 12, from Buckingham, in Buckinghamshire, were found together by rescue services on Sunday.
Mr Saunders had called for help on Saturday after his son fell on a mountain trail in the Chamonix valley.
The pair were on a popular route, which police say is dangerous in winter.
Captain Patrice Ribes, a French police officer, said emergency services had unsuccessfully tried to trace Mr Saunders' mobile phone call and launched a helicopter rescue.
"We think the father tried to find his son after he called us and asked for rescue. We believe he fell as he tried to find his son. Their bodies were found together," he said.
'Really popular'
David Hudson, head of the Royal Latin School in Buckingham, where Charlie attended, said staff and students were in "complete shock".
He said even though Charlie had only started in September, he had made a "big impact" and was a keen sportsman who got involved with athletics and badminton.
"He was just somebody who made the most of the opportunities that were available to him, somebody who was enthusiastic and participated in all aspects of school life," Mr Hudson said.
"He was really popular and we know that we will really miss him very much indeed."
He added that students were being supported by counsellors and older students who are trained as peer listeners.