Easter egg bought in 1957 found in cupboard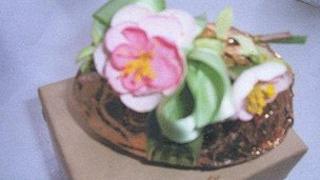 A woman has found a 56-year-old Easter egg while clearing out one of her mother's cupboards.
Judith Bowen, 73, from Wootton, Bedfordshire, bought the egg in 1957 as a gift for her mother.
The chocolate egg, was made by Gold Star Hand Made Sweets of Saffron Walden, Essex.
Ms Bowen said she wanted to trace the company who made it, so she could show them how it had survived, but she had failed to find any trace of them.
The great-grandmother said she bought the egg from Mackenzies Newsagents and Tobacconists in Letchworth, while on her lunch break from Irvine Air Chutes of Great Britain where she worked as a machinist.
"I saw these rows of pretty little eggs and I thought my mum would love one," she said.
"They were handmade and in very strong cardboard boxes which is probably why it is still in pristine condition."
'So surprised'
She said her mother would not eat it, but instead put it on show every Easter.
"It was just precious to my mum because I had given it to her," she said.
Ms Bowen revealed that eventually the egg stopped being put on show and it was not until her mother died, aged 93, that it was discovered in a sideboard at her house.
"I was so surprised it was still there, just as I'd given it to her," she said.
"The staples on the box have rusted but the egg is perfect."
Ms Bowen said she did not know "how long it will stay intact" but she intends to hand it down to one of her two sons.
"I would love to track down Gold Star to show them, but I have searched everywhere," she said.