Ex-racer Richard Howard still riding tricycle at 100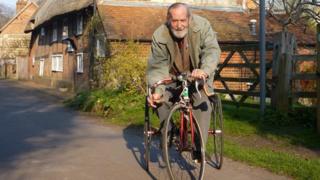 A former tricycle racer who has just turned 100 says he still rides at least five miles every weekend.
Richard Howard, from Winslow in Buckinghamshire, raced in the 1930s, winning medals for 50 and 100-mile events and a 24-hour race in which he rode more than than 350 miles.
Mr Howard, a former primary school teacher, took up tricycling again after his wife Dorothy died aged 90 in 2007.
He said of his riding: "I just accept it as normal."
Mr Howard, who celebrated his 100th birthday on Thursday, still drives a car occasionally and is an accomplished painter of portraits and landscapes.
'I'm perfectly OK'
He was born in Tottenham, north London, one of 12 children.
He retired at the age of 65, having taught in the London and Canterbury areas.
On turning 100, he said: "It's the same as I've always felt - perfectly OK."
Mr Howard is still a member of Unity Cycling Club and the Tricycle Association, and was delighted to receive birthday cards from their members.
His son Peter, 63, said of his father's cycling: "I think that has probably given him that foundation of fitness that has enabled him to live this long.
'Lot of stamina'
"I remember back in 1976 I took a photo of him with a grey beard and a beret and I thought this may be the last shot I get of my dad.
"I would never have dreamt in a month of Sundays that in 2013 I would be sitting here celebrating his 100th birthday."
He accompanies his father on weekend rides, often to Milton Keynes where they use the town's Redways path network.
"We usually go about five miles, but when the weather gets warmer we'll go about 12 miles," he said.
"My dad has a lot of stamina. We go along at quite a pace.
"People are often surprised to see someone of his age still riding.
"They often stop him and say 'That's a beautiful machine'. He'll say 'You should try one of these - they're great.'"