Three-month fire wood plant in Potters Crouch closes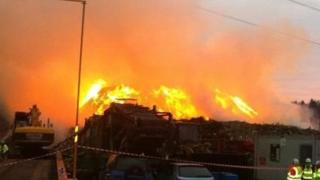 A recycling centre which was on fire for three months is to shut after its licence to operate was withdrawn.
The blaze at Wood Recycling Services (WRS) in Potters Crouch, near St Albans, began on 10 November.
It was finally put out in February and the Environment Agency revoked its permit to store wood and composting waste.
The company has confirmed it will not appeal and will "cease commercial wood activity" on Friday.
In a statement, WRS director Simon Lupson called it a "tough decision" but one it needed to make.
"There is work to be done to clear the site over the coming months and once that has been completed we will review our position and see where we go from there," he said.
172 fire engines
WRS has operated the site in Appspond Lane since 2008, providing a facility for recycled wood to be processed as bio-fuel for green energy power stations.
The Environment Agency had served an enforcement notice on the owners before the fire to restrict the levels of wood being brought on to the site.
The fire, near junction 8 of the M1, destroyed 10,000 tonnes of wood.
Hertfordshire Fire and Rescue Service said it attended 24 hours a day until 26 November, during which time 172 engines visited the site.
Its investigation concluded the blaze was probably caused accidentally.
The Environment Agency decided to revoke the company's operating licence on 20 February, giving 20 days for an appeal to be lodged.
WRS said it had received guidance from the agency for its clear-up plans which would be carried out over the next few months, until the site was fully compliant with regulations.