Luton council to carry out mock funerals 'under floodlights'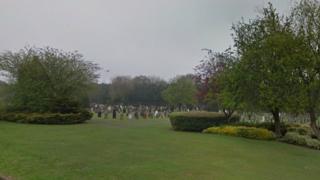 Mock funerals are to be carried out for a council to test whether it is safe for burials to take place under floodlights.
Luton's two cemeteries are looking to open until 18:00, because "the public, funeral directors and clergy leaders are asking for later burials".
Both the Vale and general cemeteries have opened until 15:30, since the 1950s.
A report to the council said mock funerals required a risk assessment.
The executive, which meets on Monday, has been recommended to change the opening hours and to enter a consultation with six full-time staff over possible changes to pay and conditions.
The floodlights would cost £2,000 for the council to buy, and the council plans to charge £50 for each use.
The report states that it expects the floodlights to be in use for six months a year.