Luton council approves homes on proposed 'village green'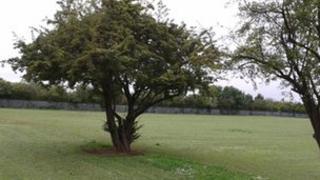 Approval has been granted for houses and flats on land in Luton where residents wanted a "village green".
Campaigners against the development at Ickley Close have pledged to fight on after councillors gave the go-ahead for development of land near the M1.
Plans for 50 homes on land behind Butely Road were approved last July but a failed application for "village green" status caused a hold up.
The council said Luton needs more homes and this was the best financial option.
Residents said the open land was where they met for picnics and events as many of them had no garden and that had motivated their failed application for "village green" status.
'Emergency' housing needs
Labour councillor Tom Shaw, in charge of housing, said: "We have got to build somewhere.
"I have got 5,500 people in need of housing, I've got 2,000 on the list as emergency and I've got over 160 families in temporary accommodation outside Luton."
The land is one of three sites given to a housing association in exchange for the council permanently receiving the right to nominate tenants for the rented properties.
"The total value of the land on all three sites is £1.5m and in exchange we are getting a number of houses which would cost us £6.5m-£7m to build," he said.
The land at Ickley Close was given to the council by developers George Wimpey in the 1970s for residents.
The development approved in July includes more than 50 homes, with 23 earmarked for social housing and shared ownership.
People living nearby applied for the land to be given village green status last September.
The council appointed an independent legal expert to consider the plan but the application was turned down because the land had already been acquired as an open space.
'Headstrong' council
At a meeting on Monday, the council approved "the appropriation and disposal of the land for planning purposes".
Campaigner Martin Stiff said the fight would continue because a very rare piece of land was at stake "in a very built up area of Luton".
"The council has already identified that the Tophill area is deficient in open spaces and once this piece of land is gone it will never be replaced," he said.
"The group feels strongly about this and has been working hard for 18 months to put our case together and at each stage we've been blocked by members of the council.
"They are headstrong in going ahead and not listening to the community."
Residents regard the decision as another hurdle but have planning issues in reserve that they can use to keep the campaign going, Mr Stiff said.