Parents protest over Luton council's faith school bus cuts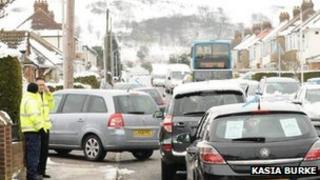 Protesters against plans to cut faith school bus funding in Luton are driving children to and from school for the day to try to stop council plans.
Parents of pupils at Cardinal Newman Roman Catholic School hope Monday's extra traffic will show what would happen if they had to do it every day.
About 600 pupils could lose the free bus travel available to those living over three miles away from September.
The council said cutting the optional funding could save nearly £300,000.
Eleven buses a day, including 10 double-deckers, ferry children to the Warden Hill Road school.
Parents said it would cost about £600 per child per year to make alternative arrangements.
Protesters set off in about 50 cars from Sacred Heart Roman Catholic Church in Stopsley at 8:05 GMT and took about one hour to drive approximately five miles (eight km).
'Absolute disaster'
Antoinette Kotula from the school's Preserve our School Transport Committee, said a further 100 to 150 cars also drove to the school from other areas of the county.
"If the buses go, people are going to have to drive their kids to school and the congestion on the roads is going to be an absolute disaster," she said.
"The council has offered no solution to this impending crisis and we hope we have demonstrated how short-sighted their financial planning is."
Luton Borough Council said it had to make £49m of cuts over the next three years and home to school transport costs more than £1m per year.
Council leader Hazel Simmons said the authority was having to reduce costs across the council.
The authority said it had two options - one is to withdraw funding from September 2013 to save about £278k in 2013/14 and £487k in 2014/15.
Another is to continue funding only Key Stage 4 pupils until the end of Year 11 to phase out the free transport over two years.
The council said it received more than 900 responses from a consultation.
It is due to make a decision on 29 April.