Cocaine smuggler's George Evans Rolls Royce on display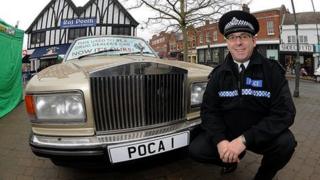 A Rolls Royce is being put on display in town centres in Bedfordshire with the slogan, "This used to be a drug dealer's car, now it's ours!"
The Silver Spirit belonged to George Evans, 76, of Beeston, who was jailed for 18 years in September for smuggling cocaine.
He and his wife, Anne, were ordered to repay £500,000 in assets.
Ch Insp Shane Roberts said the Rolls Royce showed that police would confiscate everything a criminal owned.
The couple's property, including their £400,000 home and large amounts of cash, would be used to pay for crime-fighting measures, police said.
'Relentlessly pursue you'
Bedfordshire Police said officers had been handing out personal attack alarms, bike marking kits and catalytic converter marking kits free of charge, "courtesy of George Evans".
Chief Insp Roberts, who led the inquiry into the couple, said: "It is inconceivable in my mind that criminals should ever be able to leave the justice system still in possession of the proceeds from their crimes.
"Criminals need to understand is that our teams will relentlessly pursue you until we have identified and confiscated everything you have.
"In the Evans's case it's their money, cars and house."
Evans, of High Road, was jailed for 18 years for conspiracy to supply cocaine and 18 months for money laundering.
His 55-year-old wife was sentenced to 18 months for money laundering.
Luton Crown Court heard police found 29kg (63lbs) of cocaine inside specially-hollowed roof bars in one of their cars when it was stopped in France in 2009.
It would have had a street value of about £3m, the court heard.