Hatfield House welcomes Royal Academy sculptures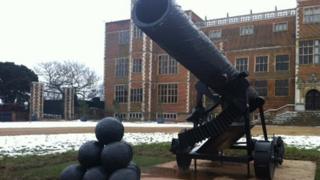 An exhibition marking a unique collaboration between a stately home and the Royal Academy of Arts, has opened in Hertfordshire.
Hatfield House, home of the Marquess of Salisbury, is hosting the work of six artists in its gardens.
It is the first time the academy has worked with another organisation in the UK to curate a display of academicians sculpture away from its London home.
Lord Salisbury called it "tremendously exciting".
The Jacobean stately home, on the eastern side of Hatfield, has been the home of the Cecil family since it was built in 1611.
After talks with its current inhabitants, the academy said it approached Royal Academy sculptor Bill Woodrow to curate a display by a group of his fellow academicians.
He gathered the work of five others - Ann Christopher, Richard Deacon, Alison Wilding, Michael Craig-Martin and Gary Hume - to feature in the north front and west garden.
The selection and location of each work was carefully undertaken by the group, which visited the 17th Century gardens to decide on the best sites for their contemporary sculptural works.
The resulting Here, There and Somewhere In Between exhibition has been funded by Hatfield House for a cost likely to be "upwards of £35,000".
Royal Academy chief executive Dr Charles Saumarez Smith said: "It's all part of our desire to make sure the academy is known, not just by our London audience, but by a more global audience."
'Reconnecting tradition'
Robert Gascoyne-Cecil, the 7th Marquess of Salisbury, said it hoped to capitalise on the "great success" of the Henry Moore exhibition, which celebrated the house's 400th anniversary in 2011.
He said: "Hatfield House has gained a reputation for successful exhibitions within its park, and I am sure this joint project will be an enormous success.
"From the historical point of view, it's exciting because the builder of this house [Robert Cecil, 1st Earl of Salisbury] was a great patron of the arts.
"He commissioned sculptures and was one of the earlier collectors, so we are reconnecting with that tradition."
The exhibition runs until 29 September.