Biddenham 'attack' dog is destroyed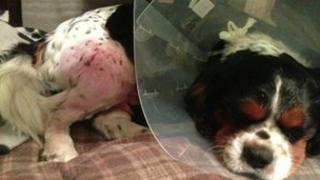 A dog that was seized after a pet spaniel was savaged and photos of the attack posted online has been destroyed, police said.
Mafalda Clewlow, from Biddenham, posted images of the attack on her King Charles Spaniel, as they walked near Ouse Valley golf course on 15 March.
Police said the offending dog was handed to police and destroyed on Tuesday, with the owner's consent.
A spokesman added that a criminal investigation was ongoing.