Plans for Bedfordshire Regiment memorial in place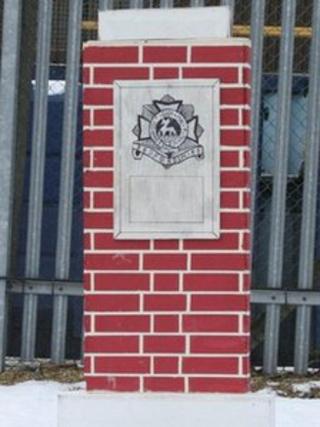 A military enthusiast has built a wooden memorial to the Bedfordshire Regiment, hoping it can be recreated in stone in a Belgian cemetery.
Ian Mould, 45, from Bedford, wants to honour thousands of men from the "Bedfords" who died in World War I.
He hopes a monument can be erected in Tyne Cot British Cemetery in 2014 to mark the war's 100-year anniversary.
He said: "They lost nearly 6,000 soldiers, but there is nothing to remember them."
Mr Mould added: "It was a small county regiment yet its battalions fought in every major battle in France and Belgium as well as Italy, Gallipoli and Palestine.
"The local regiment won seven Victoria crosses but there is not one single memorial to them."
His plans for the 6ft (1.83m) memorial feature the regimental badge and the inscription: "In memory of those officers and men of the Bedfordshire Regiment who fought in the Great War 1914-1919. Let those who come after see that their names are not forgotten."
Brickwork link
Mr Mould, who has visited the Western Front about 20 times, has contacted the Tyne Cot British Military Cemetery in Zonnebeke which has agreed a prospective site, next to one for the Notts and Derby Regiment and one for the Kings Own Yorkshire Light Infantry.
In a bid to convince Belgian authorities, the engineer built a replica model from wood and cardboard.
Officials have also agreed it can be built in red brick and white stone to replicate the Keep, the Regimental Depot of the Bedfords in Kempston.
Mr Mould said: "The two memorials already [in the cemetery] are built of solid stone and cost about £20,000 each.
"I thought that if I could substitute the middle section for bricks it would be a nice local link because Bedfordshire is linked to brickworks - and it would be cheaper.
"They wanted me to send drawings but I thought it would be easier to build a replica and send them photos."
Mr Mould now needs to raise about £5,000 for it to be built.
"I've written letters to councils and am looking to apply for various grants, I can't turn back now, I have to carry on."