Bedford Hospital 'mystery wound' patient seeks answers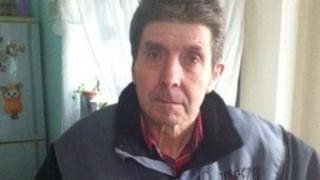 A man who suffered a mysterious wound to his back while being treated at Bedford Hospital has been told he has left it too late to make a complaint.
Keith Thompson, 68, from Shefford, was admitted to the emergency department in March 2010 for routine monitoring.
The next day he was operated on for a 10cm (4in) deep "laceration" to his lower back but neither he nor hospital staff know how the injury occurred.
The hospital said an investigation proved "inconclusive".
Mr Thompson, who suffers from epilepsy, said he had "no idea" what had happened as it was a "total blank".
'Large hole'
His wife Pam said he was admitted to hospital because his condition means he has to be assessed after a certain number of seizures.
"Once he gets like that, he is just sleeping but they can monitor him," she said.
"I got a call [the next day] to say they were taking him down to theatre because they had found 'a large hole' but they didn't know 'why or what had caused it'.
"They actually said it could be a life-or-death situation."
The couple sought legal advice, but after a process lasting about 18 months they were turned down for compensation.
Police involvement
A complaint to the health ombudsman proved fruitless because too much time had passed since the incident.
Mr Thompson accused the hospital of not taking his complaint seriously.
The hospital said it "appreciated" the pain Mr Thompson had suffered and was "sorry for any distress".
In a statement, it said a "thorough investigation", involving the police, had proved inconclusive.
It added that subsequent involvement from the NHS Litigation Authority and the Parliamentary and Health Service Ombudsman had not led to any criticism of the trust's approach to this "unfortunate incident".
"As a result the trust does not consider there is anything more it can do and the matter has now been closed," the statement said.