Milton Keynes welcome signs 'misleading'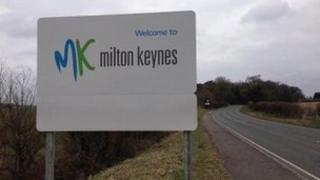 New signs welcoming drivers to Milton Keynes, but placed nearly 15 miles away, have been branded "misleading".
One, on the A428, near the Bedfordshire village of Turvey, is about 13 miles from the new town's centre.
Residents say to get to Milton Keynes, motorists go west through Lavendon before reaching the A509, and driving 14 miles through Olney and Chicheley.
The council said the signs welcome people at the boundary of Milton Keynes borough.
Norman Kitchener from Lavendon said: "When I was driving the other week [south from Northampton] I got to Turvey and a sign said "Thank you for visiting Milton Keynes".
"What a total waste of money."
'Not inappropriate'
On Facebook, Gina Bainbridge commented: "I saw one last night just outside Bedford and I had to look twice", while Shirley Clancy said: "[It] just used to say Buckinghamshire, that was enough. It's not Milton Keynes."
Councillor John Bint said the signs were on the boundary of Milton Keynes which is a "borough and a county" and it was "not an inappropriate use of money".
Sixteen had been erected across the area, which cost a total of just under £16,000.
"It's traditional to have signs welcoming road users when they come through the boundary of a local authority," he said.
"If people didn't know they had come into Milton Keynes at that point, then the signs have served a useful purpose.
"I accept that Milton Keynes, the place, spreads all those miles away from the shopping centre, but there is more to Milton Keynes than the shopping centre."