Royston Hospital campaigners win sale 'delay'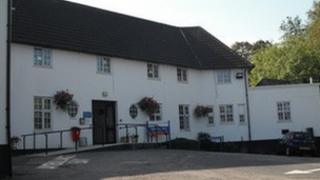 Campaigners trying to keep a hospital in Hertfordshire from being sold to private developers have won extra time.
The Royston Hospital Action Group (RHAG) and Friends of Royston Hospital have managed to have the site added to the council's list of "assets of community value".
It means the community has six months to make a bid for it, during which time the NHS cannot sell the land.
A NHS spokesman said they recognised the site's "community asset status".
He added owners NHS Property Services would "be working with NHS commissioners and the local community to determine the future of this site."
Royston Hospital's inpatient service catered for those needing intermediate rehabilitation care plus some outpatient services.
The Hertfordshire Community NHS Trust wants to replace it with a care home and move the outpatients' services to the health centre.
Campaigners want to keep all hospital services on the current site in addition to a care home.
'Retain a hospital'
In February, the two campaign groups asked the council to consider putting the land and buildings on its list of assets of community value.
Owners of listed sites must inform the council if they want to sell it, so community groups can decide if they want to buy it themselves.
Groups then have six weeks to decide whether they wish to be a potential bidder.
They then have a further four and a half months to put forward a bid which the landowners would normally be obliged to consider.
A spokesman confirmed the Royston Hospital site had been put on the list and the landowner had "reconfirmed" their intention to sell it.
However, North Hertfordshire District Council confirmed the landowner was "ultimately free to dispose of the site to whoever they choose".
The initial six-week moratorium period began on 4 April.
Chris Cowsley, from RHAG, said the action had delayed the sale of the hospital and it was now considering its options.
"We want to retain a hospital in Royston that is open 24 hours a day," he said.
"We can't say at the moment what will happen but we have six weeks to open up a discussion with the people of Royston to see what can be done."