Man arrested over Lanzarote 'abduction' of toddler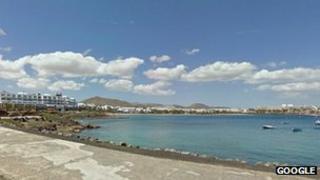 A 62-year-old man has been arrested in connection with an alleged abduction of a three-year-old girl in Lanzarote.
A family from Milton Keynes were in Costa Teguise in January 2012 when they spotted, and stopped, their daughter being led away from a shopping centre.
A man was arrested in London on Wednesday evening on suspicion of attempted kidnap and has been remanded in custody.
Thames Valley Police said the investigation was ongoing.
The family were visiting a shopping centre in the tourist resort when the father spotted his daughter was missing.
He left a store and saw the toddler being led round a corner into an alleyway by a man, who was holding her hand.
He ran to his daughter, pulling her away from the man who then left the scene.
The family saw the same man on the beach a short time later and confronted the suspect, but he left before police arrived.