Watford family feud: Two men jailed over gun attack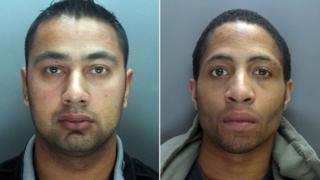 Two men involved in a gun attack that left the victim paralysed have been sent to prison for conspiracy to murder.
Fesar Khiaq, 27, of Yarmouth Road in Watford was jailed for 35 years and James Campbell, 23, of Wellington Street, Luton, for 29 years.
Campbell broke into the victim's home in Watford with an unknown gunman, St Albans Crown Court heard.
Mohammed Yasin Khan was shot over a feud involving his son.
Khiaq put together the plan to exact revenge, the court heard.
Pellets entered brain
Mr Khan's son, Ausman, was earlier acquitted of a charge of attempting to murder Khiaq's older brother, Abid Hussain.
Judge Steven Gullick was told of the life-changing injuries Mr Khan, now 66, had suffered in the attack on 27 October 2011.
The gun blast left a wound the size of a 50 pence piece to his neck but pellets entered his brain and he suffered a stroke.
He has been left paralysed down his left side, his speech has been affected and he is unable to walk.
Three other men, Anthony Francis, 30, who at the time was living in Charter Place, Watford, Matthew Seddon, 28, also of Charter Place, Watford, and Alex Myers, 21, of Dumfries Street in Luton were all found not guilty of conspiracy to murder.
Khiaq was also acquitted of two charges of making threats to kill.
Victim forced to move
Campbell and the gunman man broke into the house while Ausman Khan was out but his father, Mohammed, was in bed and his sister, Rabia, was in her bedroom.
The prosecution said the shooting of Mr Khan was the culmination of a bitter feud between two families.
Judge Gullick told Khiaq: "You decided a considerable act of revenge was needed.
"You organised this conspiracy to murder and it was carried out on your behalf and at your instigation."
The judge said Mr Khan had spent 12 months in hospital and he and his family had been forced to move to a secret address for fear of another attack.