Luton fatal shooting: Police investigate 'feud' link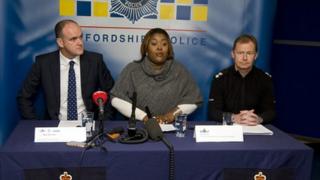 A shooting in Luton has been linked to a "criminal feud", police have said.
Paul Foster died at Luton and Dunstable Hospital a week ago after an incident outside a friend's house in Brunel Road in the Leagrave area of the town.
A post-mortem examination revealed he died from a gun wound to his chest.
"We believe that the motive for this horrendous killing was linked to an ongoing criminal feud," Det Supt Jeff Hill said.
"Some of his associates and in fact some of his close friends were known to be involved in crime."
Mr Foster, also known as Big Shyne, was a partner to the sister of 19-year-old Delaney Brown who was was killed in a hit and run collision in Leagrave, last September.
'Shocked the community'
A 22-year-old man is due to go on trial later this year charged with his murder.
Det Supt Hill said: "There are people out there who can help solve Mr Foster's murder.
"Some of them may have already made their minds up about Paul as a person and are choosing not to help us.
"If that's the case, we are here to try to change their minds.
"I make no bones about it, we need people to stand up and be counted and have the courage and leadership to do the right thing.
"It was brutal killing in the residential area of Luton which has shocked the community."
Mr Foster was a cleaner and a driver who had also opened a community sound studio for young people.
Adowa Ramsay, who had known him for 10 years, said: "He was a dedicated husband and father of three children, a son and two little girls.
"He worked hard to keep his family. Paul was a huge character - often you would see him playing football on the estate."
Detectives continue to investigate his murder and want to speak to anyone who has information about Mr Foster's death.
Two men have been arrested and bailed.