Bedford shopkeeper Vairamuthu Thiyagarajah 'supported everyone'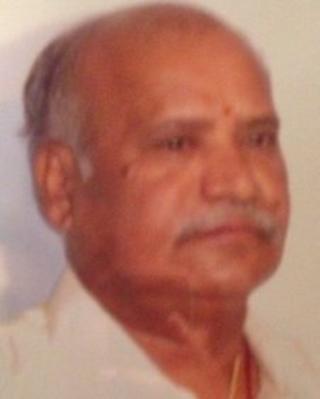 A shopkeeper found with fatal head injuries has been described as a "towering figure" by his daughter.
Vairamuthu Thiyagarajah, 56, was found in his flat above MK Food & Wine In Elstow Road, Bedford, on 7 April and died in hospital four days later.
Sumithra Thiyagarajah said: "This has been very hard to accept. We feel like we are standing still, frozen."
Thilak Mohan-Raj, 25, who also lived above the shop, is charged with causing grievous bodily harm with intent.
Sri Lankan-born Mr Thiyagarajah's wife, son, four daughters and several grandchildren were at his beside when he died at Addenbrooke's Hospital, Bedfordshire Police said.
Speaking on behalf of her family, pharmacology student Ms Thiyagarajah said her father had been looking forward to her graduation this summer and a holiday to Sri Lanka.
He is survived by his mother, who still lives in his home country.
'Tough upbringing'
"From a very young age he had a very tough upbringing, growing up in a war ravaged country and had to work extremely hard to provide for the family," said Ms Thiyagarajah.
"This tough upbringing had taught him how important it is to value everything in life no matter how small.
"This is something that dad has instilled into all of us and I am sure this will stand us in good stead for the rest of our lives.
"He was a towering figure providing support and guidance to not only the immediate family, but to the wider family circle and friends.
"We are going to terribly miss the support and encouragement that dad had provided throughout our lives, especially at times when we most needed it.
"I really don't know how our lives will move on without him, I wish all the events of the past week was just a bad dream."
She said her father was "fun and laid back" and "constantly cracking jokes" and was a "good friend to everybody".
Police said a post-mortem examination carried out on Monday found the cause of death was head injuries.
A spokesman added Mr Mohan-Raj's case would be reviewed by the Crown Prosecution Service in the light of Mr Thiyagarajah's death.
He is due before Luton Crown Court on 24 April.