Luton gun crime is 'not serious' say police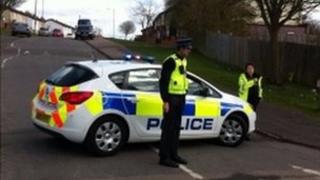 Luton does not have a serious firearms problem according to police following the tenth crime in the town involving a gun this year.
The figures compare to 12 incidents recorded between April and December 2012.
Det Ch Supt Mark Turner said a "very, very small minority" of the town's population armed themselves.
Lenos Wilson from the charity Non Violence Alliance said there were "way too many guns in this town".
Mr Wilson agreed with Mr Turner that a minority of people were involved but said there "was a problem".
"One person with one gun could kill many people," Mr Wilson said.
He also said he felt that police were not acting on the "intelligence" they received.
"They don't move on it and when they do it's too late," he said.
'Dangerous' is 'unfair'
Mr Turner said it was "unfair to say Luton is a dangerous place".
"We have got a very, very small minority of people in Luton who will arm themselves with firearms and will use them in furtherance of criminality," he said.
"That doesn't necessarily equate to a large gun crime problem or that gangs are roaming about using firearms.
"But obviously one gun crime is one too many, so we are going to do everything we can to take it off the streets."
Since 1 January there have been 10 recorded incidents of gun crime in Luton, four of which involved shots being fired.
On Tuesday, shots were fired towards a house in Burnham Road, near Stopsley and on 9 April a man was fatally shot during an incident in Brunel Road.
"It is not untypical of a town of [this] size in the UK to have issues around gun crime," Mr Turner said.
"Ten in four months might seem a lot but the figures have reduced in Luton for the past four years or so."