Willen Village Surgery closure left patients without GP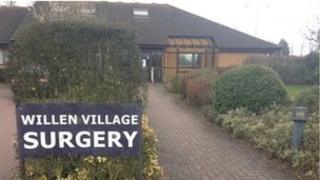 Thousands of patients in Milton Keynes have been registered with new GPs after their surgery unexpectedly closed following a doctor's resignation.
A sign at Willen Village Surgery said its only GP resigned with immediate effect on 14 April.
NHS England would not reveal why, but said they recognised the inconvenience the closure caused to patients and their families.
All 5,200 patients have been assigned other surgeries.
Another doctor at the surgery, Dr Obiako Okafor, was suspended by the General Medical Council last November, pending the outcome of a fitness to practice investigation.
Patients will now have to attend either Kingfisher Surgery in Newport Pagnell, Broughton Gate Health Centre, Oakridge Park Medical Centre or Purbeck Health Centre.
NHS England's Hertfordshire and South Midlands Area Team said: "We have written to all patients to explain the situation and will keep them updated on future arrangements.
"Our top priority is to ensure patients continue to receive high quality medical services and we are exploring all options for delivering these services both immediately and over the longer term."