Bedford High Street £3m renovation scheme begins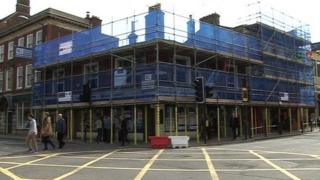 A row of 19th Century almshouses are the first buildings to be restored as part of a £3m restoration scheme in Bedford town centre.
The properties on the High Street were built in 1800 and are currently a crumbling group of shops and a taxi office.
The shop fronts are being restored and the vacant upper floors turned into student accommodation.
The Townscape Heritage Initiative has council and lottery funding.
The almshouses, called Duke's Road, were turned into a music shop in about 1891 and a photograph from that period is being used as the basis for the restoration.
Samat Lakha, who co-owns the building, said: "The market brought people back to St Paul's Square and I believe this refurbishment will help bring people back to the High Street."
The owners have appointed local businesses to produce designs and undertake building work, which is expected to last for a few weeks.
Bedford College students are being offered work placements by contractors.
Bedford Borough Council said up to £200,000 is available for each project selected in the town centre, but property owners have to make a contribution.
The neighbouring Reels Amusement Arcade has also secured funding, and the council is considering other applications for grants.