Aylesbury Young Offender Billy Spiller 'like a tornado'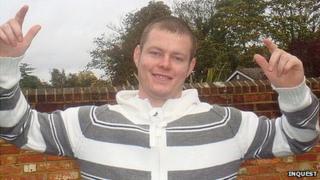 The mother of a 21-year-old autistic man found hanged in his cell was worried he would not be able to cope with prison, an inquest has heard.
Billy Spiller was serving a three-and-a-half year sentence at Aylesbury Young Offenders' Institution (YOI), when he was found dead on 5 November 2011.
Buckinghamshire Coroner's Court was told he had a history of self-harming.
Spiller's mother, Dawn Spiller, said he was "like a tornado" and "determined and headstrong".
He was sentenced for a crime, which has not been revealed to the inquest, in December 2009, and entered Aylesbury YOI in July 2010.
A jury heard Spiller, from Brighton, East Sussex, would repeatedly kick and punch the walls of his cell and on the morning of his death was frustrated at not having enough money to call his girlfriend.
When a prison warder checked on him at 13:00 GMT, Spiller said he was feeling better, after being allowed to make the phone call.
However, when the same warder looked in his cell through an observation window just over an hour later, she saw him hanging.
Spiller was taken to hospital but pronounced dead on arrival.
The court was told he had been diagnosed with Asperger's Syndrome and attention deficit hyperactivity disorder (ADHD) as a teenager, and was prescribed medication for his conditions.
Mrs Spiller said her son started to injure himself at the age of nine and would sit on railway tracks near their home or drink white spirit when upset.
'Difficult behaviour'
She said he left school aged 15 due to his difficult behaviour and worked as a roofer with his father, Nick, but jumped from scaffolding onto the roof of a double-decker bus "for no reason".
"I was very worried about Billy being in prison. I was worried they wouldn't be able to cope with him," she said.
"I knew he would not cope with being locked up and that's why I was so worried.
"Billy was like a tornado. He was always on the go. He was so determined and headstrong."
Coroner Richard Hulett noted it appeared Spiller sometimes lacked "an appreciation of danger".
The inquest is due to last two weeks.