Hertfordshire PE teacher John King filmed children in their underwear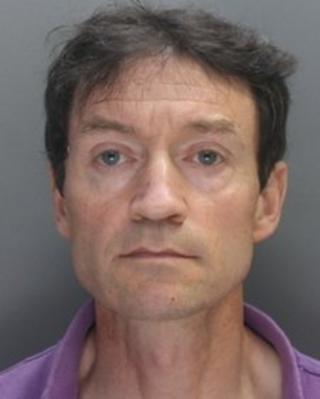 A PE teacher has been jailed for secretly filming pupils in their underwear at 11 schools across Hertfordshire.
St Albans Crown Court heard John King, 50, of Leighton Buzzard in Bedfordshire, also kept diaries which detailed his obsession.
King admitted 11 charges of voyeurism and others of making and distributing indecent images.
The former supply teacher was jailed for three-and-a-half years.
The court heard that King, who lived on a boat on the Grand Union Canal, filmed scores of boys and girls using video cameras set up inside a bag or briefcase between 2003 and 2008.
King was discovered when Staffordshire Police found some of his films had been sent to another man they were investigating.
'Poetic' diaries
After his arrest in August, police found King's diaries, CDs and slides containing images and a kit bag which contained 66 pairs of boys underpants,
The schools were in St Albans, Watford, Hemel Hempstead and elsewhere in south Hertfordshire.
Michael Speak, prosecuting counsel, said: "He spoke of being aroused by what he had seen and talked in almost poetic terms about underpants and the purity of their whiteness."
The court heard King had told police he had never had a sexual relationship with anyone.
King also pleaded guilty to four charges of making indecent photos of children, four charges of possessing indecent images of children and two charges of distributing indecent images.
Ms Giuseppina Silvio, defending counsel, said he had made a "full and frank admission" and recognised it was a breach of trust.
"He clearly had an interest in the underwear of the children. Fortunately there was no direct physical harm to any of the children," she said.
Judge Steven Gullick said: "These children know they have been surreptitiously photographed by their teacher which will understandably have some effect on them."
He said King had made his position worse by sending three films to the man in Staffordshire.
King was also disqualified from working with children again, made the subject of a sexual offences prevention order for life and put on the sex offenders' register.