More than 900 drivers fined for using Wixams estate bus lane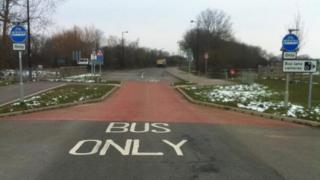 More than 900 drivers have been fined for using a bus lane in Bedford in the six weeks since CCTV cameras were installed.
They were added at the Wixams estate because motorists were using the route as a shortcut.
Bedford borough councillor Charles Roydon said he was surprised 939 fixed penalty fines of £60 each had been issued.
"Some people would rather take the fine and take the shortcut," he said.
Mr Roydon, portfolio holder for transport, said the bus lane was created in 2008 as part of the design of the estate.
The council installed the cameras on 11 March due to fears that drivers ignoring the signs were endangering other road users and pedestrians.
"If someone was killed on that stretch of the road people would be asking why the local authority didn't do anything about it," Mr Roydon said.
"People are not allowed to use it and we can't turn a blind eye to people who are using it."
Drivers caught using the lane have 21 days to pay a reduced fee of £30.
Signs 'too late'
Some people have criticised the council for not making the signs clear enough and using the cameras as a "cash cow".
Commenting on a debate about the cameras on the BBC Three Counties Radio facebook page Emily Saunders, who said she had been caught by the cameras, said: "By the time you see the signs clearly it's too late!"
Another contributor, Gary Lester, said: "Clearly it does not need to be there and locals should be able to drive through roads.
"This is an absolute cash cow by some total idiot that should personally pay to have it all removed and cancel the fines."
But Mr Roydon said the cameras had not been installed to increase revenue.
"Just administering these fines is costly for us and installing the equipment was huge," he said.
"Any money that is eventually accrued will be reinvested in other road safety measures."