Milton Keynes concrete cows repainted by Parks Trust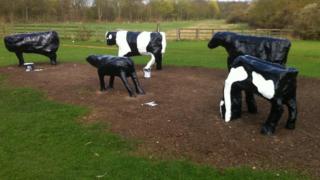 Replica concrete cows in Milton Keynes are being repainted months after they were turned into skeletons.
The three cows and calves, in Bancroft, were targeted in October by Ryan Billings, the son of the man who created the pieces.
The Parks Trust, which maintains the artwork, said it would have to spend £750 on the repainting and repair work.
Defending his actions, Mr Billings said he had "simply restored" them and offered to do the repainting for free.
A spokeswoman said: "We were always going to restore them back but we had to wait for better weather."
Designed by artist Liz Leyh, the cows were made in 1978 as a leaving present from the Milton Keynes Development Corporation - which oversaw the building of the "new town".
Street art
Bill Billings, who died in 2007, specialised in street art in the town. His models of the cows are replicas - the originals are in the centre:mk shopping centre.
His son, Ryan, said he transformed the cows because he had been trying "for quite a while" to get his father's works restored officially as they were "falling to bits".
It was initially estimated that the repainting would cost £2,000 but Mr Billings offered to do it for free if the trust gave him the materials.
Mr Billings said he was "very annoyed" the trust had not asked him to do the job.
He added: "I have been lunched out! I've left Milton Keynes, there is no point wasting my life or my skills."
The trust confirmed it had met with Mr Billings about future projects but said he had not been asked to repaint the cows.
"When the makeover was first done, the right kind of paint was not used, so we needed it done properly," the trust spokeswoman said.
Police initially viewed the incident as criminal damage, but said as the trust decided not to pursue the prosecution, the investigation was closed.