Miroslav Wosik guilty of murdering wife in Hemel Hempstead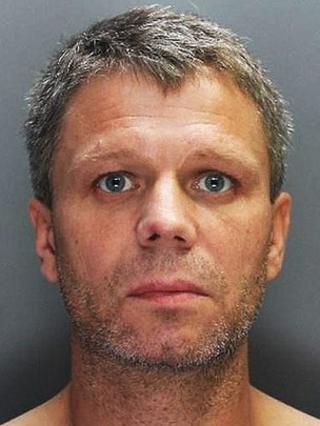 A man has been jailed for life for murdering his estranged wife in a bedroom knife attack he claimed he could not remember.
Miroslav Wosik, 42, of Galashiels, was found guilty of murdering Bernadeta Jakubszyk, 30, at her home in Hemel Hempstead, Hertfordshire.
Judge Stephen Gullick sentenced Wosik to a minimum of 18 years in jail.
St Albans Crown Court heard he told his son after the attack last May: "Call the police, let them arrest me."
The jury of 10 men and two women heard Ms Jakubszyk died from two deep stab wounds that punctured her right lung in the early hours of 28 May, at her home in The Wye.
Prosecutor Ann Evans said she had also been stabbed once in the head and had cuts to her hands and forearms, indicating she had put up a fight.
'Ultimate revenge'
The Polish couple's two daughters, aged eight and six, were asleep in the house at the time.
The killing happened after Wosik had travelled south from his Scottish home in Beach Avenue, Galashiels, to visit his family.
He had moved out of the family home weeks earlier when their marriage hit difficulties.
The prosecution said his wife had been getting her life back together and meeting up with friends, but it was "obviously too much for the defendant to bear and he took the ultimate revenge on her".
The trial heard how Wosik's son Daniel ran up the stairs to find his stepmother dead on her bed and his father sitting beside her.
Mark Wyeth QC said Wosik could not recall events leading to her death, adding there was "no evidence of a plan".
Ms Jakubszyk's family said in a statement: "She had so many plans and dreams for the future but the man who was close to her, who she loved very much, took her life.
"People should respect and love one another. Domestic violence is like cancer in the family."