Human ear found at St Mary's Church in Aylesbury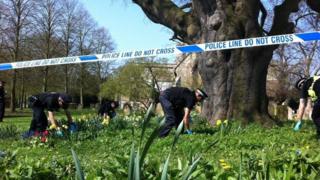 A human ear has been found by a man walking his dog in a Buckinghamshire graveyard.
The St Mary the Virgin Church, in St Mary's Square, Aylesbury, was cordoned off after police were called on Wednesday evening.
Thames Valley Police said investigations were continuing.
A spokesman said: "Police were called at 18:37 BST by a man who was walking his dog and discovered what he believed may be a human ear."
Police have sent the ear to a Home Office pathologist to be analysed.
Results are expected next week and officers will begin an investigation if the body part is found to be "current rather than historic", the force said.
The area is being searched for any other evidence.
'Not normal'
The church's rector, Father Shane Wood, who lives close by, said he first heard about the find when police arrived to cordon off the church and he went to make sure that any people inside were not affected.
He said he was "shocked and surprised", and his thoughts were with anybody in involved in the "tragic circumstances which may surround it".
"It's not a normal thing and it's rarely seen, if ever, in this sort of town " he said.
"You would normally associated body parts with the fictional Midsomer Murders."
He said that there had been many offers of alternative accommodation for church activities and a lunchtime concert had been diverted to Aylesbury's Methodist Church.
"The town pulls together well in emergencies," he said.
"It's a good community."