Man who found ear at St Mary's Church in Aylesbury in 'disbelief'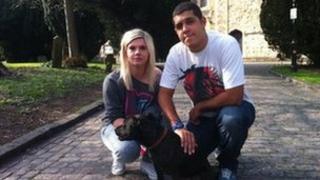 The man who found a human ear while walking a dog in an Aylesbury graveyard says he is in "disbelief".
Ben Jackson-Smith was in the grounds of St Mary the Virgin Church in St Mary's Square on Wednesday evening when he saw the dog "biting something".
He said "close inspection" led him to believe it was "definitely a human ear".
Thames Valley Police searched the area but said they did not find any other evidence.
Officers confirmed they have sent the ear to a Home Office pathologist to be analysed.
They said the results were expected next week and officers will begin an investigation if the body part is found to be "current rather than historic".
'Brushed off'
Mr Jackson-Smith said: "I thought it might be a pig's ear or something.
"I kind of brushed it off at first as I was in disbelief but a close inspection kind of brought me to believe it was definitely a human ear.
"I am still in disbelief and shock, I'm hoping everything is OK."
He said his girlfriend told him to pick it up in a doggy bag to ensure he did not touch the ear, which he took it back to his flat before calling the non-emergency police number.
"They were as shocked as I was," he said.
Police set up a cordon at the church to conduct a further search of the area. It was lifted on Thursday afternoon.
Meanwhile, daytime services were moved to another church.
The church's rector, Father Shane Wood, said: "It might [have been] an inconvenience to us but obviously we are concerned for those who are involved with this incident and for the work of the police."