'Mercury coffee' trial: Ravinder Kaur denies poisoning boss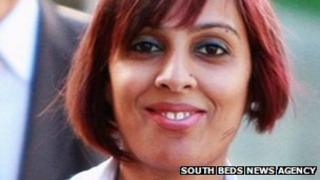 A dental nurse has denied poisoning her boss's coffee in revenge for being disciplined at work.
Ravinder Kaur, 34, broke down in tears at London's Blackfriars Crown Court as she denied spiking Laura Knowles' drink with mercury in March last year.
Practice manager Ms Knowles, 36, said she suffered from seizures three days after the alleged attack.
But Ms Kaur, of Ettrick Drive, Bedford, told the jury: "I've done nothing wrong at all."
The attack is alleged to have happened at the Shams Moopen Dental Practice in Shefford, Bedfordshire, out of "spite or revenge" after Ms Kaur was given a final written warning for her behaviour at work.
'Liberty at stake'
The prosecution claims Ms Kaur put mercury amalgam - a substance used in dental fillings - into a cup of coffee she made for Ms Knowles, but the defendant believes she was set up by colleagues.
Earlier, Ms Kaur recalled being summoned to the office on 16 March last year by her bosses hours after the alleged attack.
"I was just so shocked - this is affecting my whole life, my liberty is at stake," she said.
"They presented the allegation saying I had put mercury in Laura's coffee, 'This morning'.
"They said they wanted to take legal proceedings against me."
The defendant said she had been "stressed and under a lot of pressure" while being on paid suspension for the previous year.
"I've done nothing wrong at all," she said.
'Speckles of metal'
Ms Knowles previously told the jury she experienced stomach cramps and had bouts of dizziness, diarrhoea and vomiting after drinking her coffee, but the court heard she did not suffer any long-term damage.
The jury was told after sipping the coffee, Ms Knowles threw the rest in the sink, leaving behind a grey sludge.
Prosecutors said swabs of sludge found in the sink matched the mercury amalgam used by the surgery to make fillings.
They added X-rays showed the presence of "speckles of metal" in Ms Knowles' lower intestine consistent with "ingested mercury".
Ms Kaur denies administering a poisonous or noxious substance with intent.
The trial continues.