Alleged abuse at Shefford orphanage investigated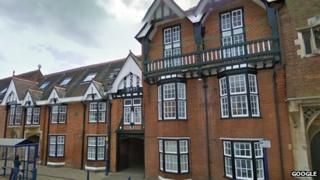 Allegations of abuse at a former Catholic orphanage in Bedfordshire are being investigated by police.
The complainant was a resident at St Francis Boys Home, in Shefford, near Bedford, in the 1960s.
Some residents of the home are also considering taking legal action against the charity which ran the home.
Bedfordshire Police said: "We have received a complaint concerning St Francis Boys Home and are in the early stages of an investigation."
A spokesman for the St Francis Children's Society said it would be inappropriate to comment as there could be "legal and police implications".
'Flashbacks of beatings'
Gordon McIntosh, 63, of Roehampton, south-west London, said a group of former residents were looking at starting legal action.
"A group of us met up. We decided we wanted to take a 'class' action to court," he said.
"I suffered physical canings and beatings," said Mr McIntosh. He said that some beatings resulted in "blood blisters".
He said he had "flashbacks" of the abuse he suffered at the home, which closed in 1974.
Damian Chittock, 51, of Tower Hamlets, east London, who said he was physically abused by staff at the home, added: "What we want is justice. We want people to stand up and say, 'it is not acceptable'."
He called on the charity which ran the home - now called the St Francis Children's Society - to issue an apology to boys at the home who were allegedly abused.
Mr Chittock previously took the home to court in the 1990s and received a settlement of more than £30,000.
The abuser was alleged to be a priest who has since died.