Luton child exploitation claim to be investigated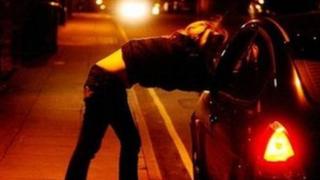 A child exploitation unit is to be set up to look into claims under-age girls are working as prostitutes in Luton.
Residents in High Town have submitted a 2,000 signature petition of "no confidence" in their two councillors Roxanne Whitaker and Andrew Malcolm.
Luton Borough Council was told about the unit when the petition was debated.
The two councillors said the criticism was unfair and prostitution in the High Town area was a complex problem that they had been working on for some time.
Shopkeeper Shezad Khadam, who organised the petition, said: "[The councillors] claim that more than 90 had been taken off the streets but the problem is getting worse.
"The councillors are not doing their duty for the residents. We need a zero tolerance approach but High Town is a tolerance area, designed for these criminals.
"We are the unlucky ward to bear all the pain."
Complex problem
The two councillors said the criticism was unfair and they had helped 91 women to leave the business.
Roxanna Whittaker said: "We have to recognise this is an incredibly complex problem that is not going to be dealt with overnight.
"Our job is to put across to residents in High Town the amount of action and work we have done and not just recently."
Bedfordshire Police said earlier it continued to operate on a regular basis to disrupt and deter all those who are selling and buying sex.
"We are working with partners to deal with the vulnerable people who are caught up in this type of crime as well as enforce the law against the kerb crawlers.
"The issues are complex and the police activity and enforcement are just one small part of the overall problem solving approach."
Double fines each time
Since January police said 141 people had been detained or arrested, and 106 had been held for kerb crawling.
People had been arrested on suspicion of GBH, recall to prison, burglary, possession of drugs, dealing, immigration offences, theft and disqualified driving, police said.
Mike Garrett, a Conservative on the Labour-run council was at the meeting and said the borough's approach was too softly softly because prosecution would only take place against prostitutes and kerb crawlers on the third offence.
"We have driven out the problem before by imposing a £500 fine on the first offence and then doubling it each time after that.
"The girls came from other parts of the country and stopped. They did not move to other areas of Luton so it worked."