Luton arrest after Culverhouse Road shooting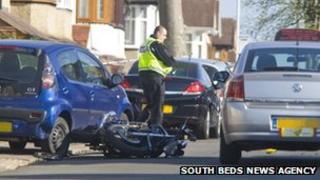 A 22-year-old man is being held on suspicion of conspiracy to murder in connection with a shooting in Luton on 5 May, police have said.
Two shots were fired at a BMW by a motorcyclist in Culverhouse Road during the incident which came just hours after a peace rally in the town.
The man was arrested on Thursday at a property in Connaught Road.
Police said other arrests had been made this week in connection with gun-related crime in the town.
A spokesman said officers had also executed further warrants and recovered drugs, a firearm and ammunition.
A handgun was recovered on Wednesday after being found dumped in brambles in Hayling Drive by litter pickers.
The weapon is now being examined to see if it can be matched to any recent shootings.
On Wednesday, a man and woman, both aged 29, were arrested in Dale Road and a large quantity of what is believed to be Class A drugs and cash were recovered.
A 32-year-old man was also arrested at an address in Five Springs on Thursday morning on suspicion of the cultivation of cannabis.
'Relentless pursuit'
Det Ch Insp Dave Quarmby said the force was "relentless in its pursuit of those committing violent crime".
"However, in order to turn these arrests into convictions we need key witnesses to be brave and give us statements," he said.
"We have measures in place that can protect witnesses but we need to know who you are if we are to help you."
Bedfordshire Police and Crime Commissioner Olly Martins said last week's verdict in the trial of Kyle Beckford showed the "vital role courageous members of the public can and must continue to play".
"By working with the police the public can help end the recent spate of firearms incidents that are doing so much harm to our town," he said.